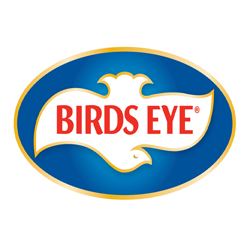 I'm not sure about you but in our home figuring out meals is the worst. Every day the question rings, "Mom, what's for dinner?". To which I reply and only to hear back with less excitement "oh ok".
Some days in my home it can become quite difficult trying to figure out something new or different to cook than our norm. With Birds Eye that problem has become more of "what can we do with Birds Eye tonight?".
With Birds Eye there are so many different options when it comes to planning dinner now. What used to be found boring can now be spruced up with any Birds Eye delicious sides. They have 4 new Steamfresh Chef's Favorites which now brings their total up to 32 choices. That's like 1 a day for a month to enjoy. (Ok maybe you wouldn't have 1 each day…but you could).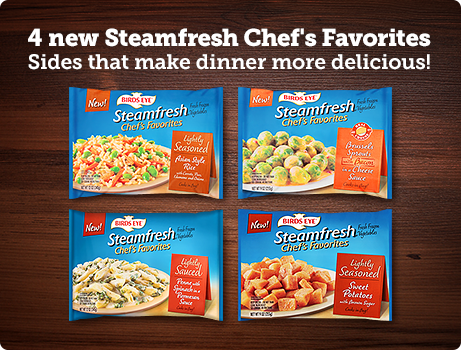 One Birds Eye side dish I've enjoyed lately especially with my daughter, is the Asian Medley. We recently made rice and then layered it with the Asian Medley and WOW not only was it tasty, it was also an easy dish to prepare too!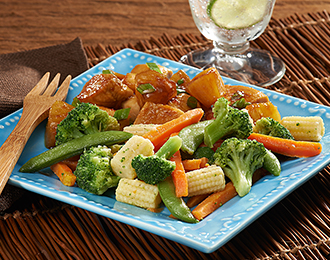 One recipe I think we all would enjoyed is the Pineapple Chicken. The recipe is easy, it takes 10 minutes to put together and 20 minutes to cook. Dinner in half-an-hour? Yes, please. You can see the full recipe by clicking on the link above for Pineapple Chicken.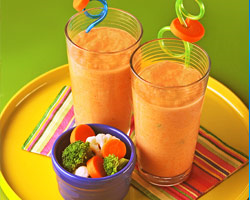 If you have trouble getting your child to eat their veggies, why not try Birds Eye's Veggie Smoothie? Now I have to admit if I told any of my kids it was a veggie smoothie, all noses would turn in the upward position. The ingredients added besides carrots are bananas, orange juice, yogurt and more. Check it out, it could definitely be worth trying, just don't tell them there are veggies in it. I'm sure they will appreciate this cool drink during our hot summer days, plus you'll feel good knowing the kids have consumed their daily vegetables intake for the day.
Although Birds Eye has tons of recipes and ideas to choose from what I love the most is their "Plan tonight's Dinner" section on their right sidebar. You can input how much cook time, and what meal you'll like to create as well as what time of the year it is. You then click the button and before you know it, you'll see many great dish ideas you can create. This will also come in handy when making your weekly grocery list.
S0 the next time you're feeling lost about making a simple but yet tasty meal, check out Birds Eye! I'm sure you'll find many meal creations that everyone will enjoy!
Make sure to visit Birds Eye's website and social channels below.
Website | Facebook | Twitter | Pinterest | ShopBIRDSEYE