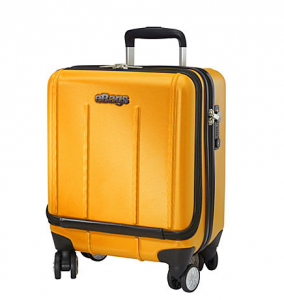 With all the excitement and anticipation that traveling brings, there is also a lot of stress. But isn't it a shame to let the technical issues of traveling get in the way of the fun parts? That's why it's always important to me to have the perfect luggage for the trip. Having good luggage makes everything easier – from organization while packing, to actual travel in the airport, and even the actual stay!
eBags EXO 2.0 Hardside Spinner Mobile Office is a well-made suitcase, designed to take the stress out of your travels, and to allow you to fully enjoy your trip! The interior features dual sided packing, so you can be more organized. It includes many other organizational pockets as well. Yes, there is space for a laptop, but if you don't need that, you can compress it and use the space for clothing, or whatever it is you do need! The four wheel spinner makes it easier to transport, and helps that you don't need a very tall handle. Durability ensures that it will last for many trips.
The versatility of this suitcase amazes me! I travel for various reasons, and therefore need my luggage to be suitable for various purposes. Versatility is my favorite feature across the board, when it comes to any product, and this one definitely offers that!
"This product is all business in the front, party in the back and for good reason – we just couldn't bring ourselves to name it The Mullet. A tip-out front section provides easy access to your laptop and business essentials with a rear packing compartment calling out for a change of clothes (flip flops & swimsuit recommended). If you're not conducting any business and want an ultra-compact Spinner Carry-On, you can easily pack travel essentials in the front (the unused laptop pocket compresses when empty). Enjoy!"
Features of the eBags EXO 2.0 Hardside Spinner Mobile Office
Made of a 100% Polycarbonate shell, the most durable option for hardside luggage. Plus, the polished/debossed diamond pattern gives it a brilliant shine and reduces visible abrasion.
Exterior measurements: 18.5″ x 14″ x 9" so it meets even the strictest carry on requirements.
The front compartment tips out. This provides an easy work area, and quick access at security screenings.
Your laptop will be well protected in the 14" x 11.25" x 1.25" pocket. It has an extra thick padded floor, plus it is located in the center for extra protection.
Organizational pockets has space for all your business tools, or the other little things you need to bring along.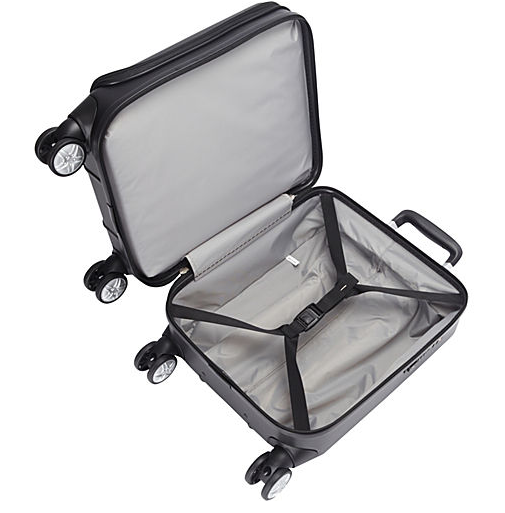 The laptop pocket compresses when not in use so you can use the space for other essentials.
Rear compartment features a five point tie strap to secure contents in place. It measures 16x 13.5 x 5 inches, but can expand to six inches, depending on what you have in the front compartment.
You have two height options on the telescoping handle – 41.5 inches or 37.5 inches
This case features #8 self-healing coil zippers. In addition, the patent-pending cross-over zipper pullers are flush-mounted.
The rear compartment has a flush-mounted Travel Sentry ® TSA-recognized 3-dial combination lock so that you can secure your valuables.
Fully recessed top grab handle.
All of the components are attached with removable fasteners so you can repair it as needed.
Available in black, blue, brushed graphite, purple, and yellow.
With a fully featured bag such as the eBags EXO 2.0 Hardside Spinner Mobile Office is, your travels will be more pleasure and less stress. The color selection will make it suited to your personality and tastes. The many pocket and packing options will keep you organized and the various durability features will ensure you don't get stuck at the other end of the globe with no luggage. It will last you for many adventures, whether mostly business or all fun.
Connect with eBags:
Disclaimer:
This product was received from the Company for review purposes only. All thoughts and words in this post are my own and I was not paid to endorse it. I am only voicing my opinion about this product.