Okay, I have to admit it…although my family loves chicken, I've never bought all natural chicken sausage or chicken meatballs.
That's why I was excited (and truth be told, a bit nervous) to try out all natural al fresco chicken products.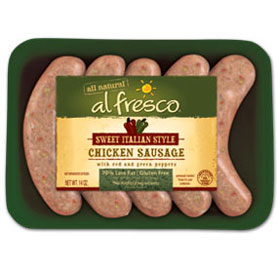 We were able to try out a few of their products including their fresh chicken sausage. My husband really loved the Dinner Fresh Sweet Italian Style Chicken Sausage with Red and Green Peppers. It's made with lean, skinless chicken meat, is gluten free and has 70% less fat and 30% less sodium than pork sausage.
Al fresco also has fully cooked chicken sausage so you can enjoy it in only minutes! With yummy flavors like Roasted Garlic, Sweet Apple, Sundried Tomato and Spinach & Feta, you're sure to find something for the whole family.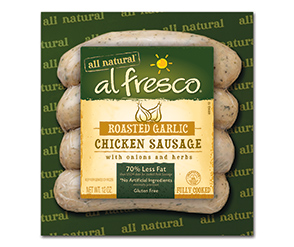 One thing I really love is the great recipes they have on their website. If you're not sure what to make with your all natural chicken sausage (although just eating it plain is amazing!) you can get ideas and inspiration to help you create that perfect meal.
If you sign up for the al fresco newsletter you'll receive exclusive deals, recipes, and a coupon for $1.00 off your purchase!
I'm really looking forward to trying their fully cooked Chicken meatballs, they're next on my list of what to buy!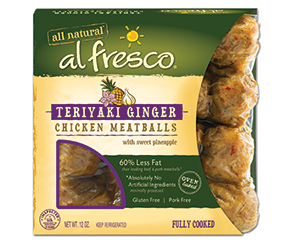 The company was founded in 1994 and believes that you shouldn't have to choose between 'good' and 'good for you'. Today they are the #1 chicken sausage brand in the U.S. with over 20 tasty, flavorful gourmet varieties of chicken products that are free of gluten, nitrates, preservatives and artificial ingredients.
From their website:
At al fresco we're constantly working to develop new flavors and recipes to help you eat better and, as a result, do everything else better.
We invite you to connect with al fresco here: Website | Facebook | Twitter | Pinterest | YouTube