When I first started delving into this app, and trying it out on my iPad, I was thinking to myself, how is this truly going to be useful to me? Then through playing with it more, and visiting the website I found more answers to how this could be effective in protecting some of your Email Privacy and how you interact with merchants and companies that you don't want to give too much information to.
So how does Dodoname exactly do that? Well it gives you an anonymous name that you can choose, or have it randomly pick for you, and what does it want in return? Just your email address. No name to give, nothing to say how old you are, no profiles to fill out, just an email address so it can set this anonymous account up for you.
So let's create an example, say you are in Best Buy, and they want to know if you would like to receive emails about upcoming deals, sales, and promotions. You think to yourself, not again, I don't want to give my real email address out, for them to find a way to track who I am and how I surf and view the internet. So you think, sure let me give you my email address, and it was your Dodoname instead? You give them your Dodoname email address, and you receive and offer from Best Buy the next day, the Dodoname App doesn't know who you are, they only know your email address, so you are free to view the ad, and click on the link in the email because if it goes to their website, it will show it came from your Dodoname email instead of your real one.
There might be a learning curve with it, but as you can see in the picture below, this is an email that I sent to my Dodoname App from my personal email, about my blog site A Medic's World. I sent it to my Dodoname App Email which was ([email protected]). and this is how it appears in the app. It shows you where it came from, and as you can see in the picture, you have an option to delete it, or visit the link provided. Also what you don't see is a way to reply to it, why? because Dodoname doesn't know who you are, remember? so why would you want to reply to it, so it can track who you really are, instead of just registering that you came from your Dodoname instead?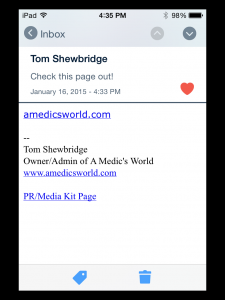 This is not meant to be used to be able to correspond with people, this is an App that will allow you to create an anonymous email, that you can give out to businesses and companies, so that you can choose what you want to see, without the fear of it going to your real email instead. It puts you into control, and helps allow you, to shop and surf without fear of your privacy being compromised. I recommend you give it a try, and you can download it here from the iOS App Store and it is free.
Stay Connected with the Dodoname App
Disclaimer:
This product was received from the Company for review purposes only. All thoughts and words in this post is my own and I was not paid to endorse it. I am only voicing my opinion about this product.
An App that might help protect some of your online privacy, through the use of a Dodoname.
User Ratings (

1

Votes)

9.9