So many different cleaning products on the market today like to advertise themselves as "all-natural" and safe for daily use, but in reality are filled with harmful, toxic chemicals that can aggravate allergies, reduce the air quality of your home, and even have deadly consequences if accidentally consumed, ingested, or tampered with by a child.
As parents, we try to be aware of the ingredients in all the things our children interact with, especially at home. But you can't just rely on warning labels when it comes to choosing your cleaning products, not when eighty-five percent of warning labels are inadequate. What's more, studies that have been conducted on cleaning products suggest that the dangerous ingredients aren't even mentioned on the packaging! As consumers, we have the right to know what's in the products we use in our daily lives, around our children, and throughout our homes [source].
When it comes to all-natural ingredients, Airbiotics, an environmentally safe, probiotic cleaner, is more than just talk: all their products are water-based, alcohol-free, non-toxic, biodegradable, and so gentle you can use it glove-free. Airbiotics uses the pure power of probiotics to combat germs and bacteria, essentially, fighting nature with nature.
So what's hiding in your standard household cleaners?
The most common types of hazardous ingredients in cleaning products include carcinogens, which promote cancer growth, endocrine disruptors, which can reduce fertility and cause breast cancer, and neurotoxins, which affect brain activity.
If that isn't reason enough to toss them in the garbage, research from the Environmental Protection Agency concludes that the toxic chemicals in household cleaners are three times more likely to cause cancer than polluted outdoor air, and that 89% of reported poisonings occur in the home as a result of household cleaning supplies [source].
We're all so used to having to deal with that unpleasant chemical smell when we're cleaning, but all it takes are a few fumes to stimulate and promote asthma, even in people who don't typically suffer from it! In fact, a substantial case study has linked the regular use of typical cleaning products at home with the development of asthma and other serious respiratory problems [source]. This is especially dangerous for young children whose organs and immune systems are still developing.
Airbiotics has no artificial fragrances and is hypoallergenic, working to actively remove pollutants and allergens from the air in your home. In fact, the 50 million probiotics per milliliter can even help to boost your child's immune system, making them less susceptible to allergies and asthma.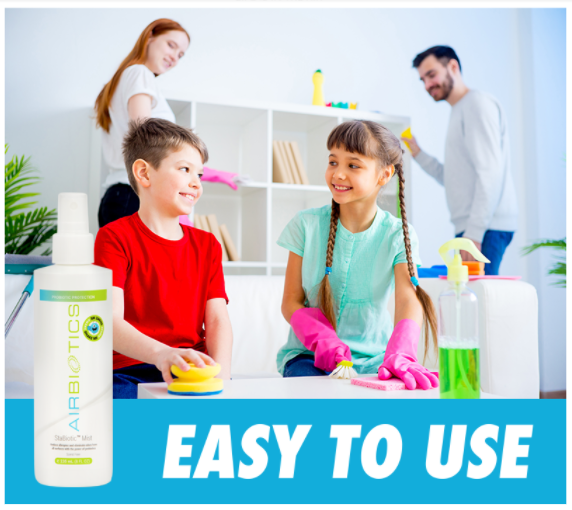 By using an all-natural, non-toxic probiotic cleaner, you are eliminating the possibility of exposing your family and yourself to the toxic chemicals that create lasting health complications and instead, promoting a healthy, clean environment that you can trust to be both bacteria and chemical-free.