I received this product in exchange for a review. All opinions are 100% my own and I received no other compensation.
A few months ago I was sitting at the computer and suddenly my automatic ice maker on the fridge made a horrible popping sound. Then it died. I mean DOA.
Since I live most of my life broke I knew there was no money to have it fixed.
So for the last few months I have been doing the plastic bendy ice tray dance. You know the one. Fill the ice tray, let it freeze, pop out the ice cubes, and watch it break. It is not my idea of a fun dance.
So when I had the chance to check out the BrylaneHome Ice Maker I jumped at the chance. I mean am I the only one who thinks it is awesome that you can take it with you to parties and make ice? I bet there are no ice tray dance at those parties.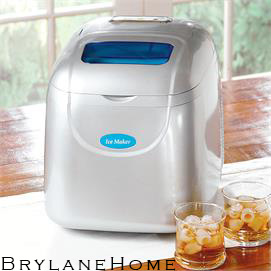 BrylaneHome Ice Maker
The portable ice maker is pretty awesome! It can make 12 ice cubes in 10 minutes and up to 33lbs of ice a day. That is a lot of ice. The best part? You can take it anywhere that has a standard household outlet. Meaning you could be the ice queen at all the parties. How awesome would that be?
It makes 3 different ice cube sizes: small, medium, and large. The inner tray holds up to 1 1/2 pounds of ice, making it perfect for get togethers. For home use you can keep dumping it into your ice container in the freezer. 33 lbs. of ice is going to last awhile and save you from the dreaded ice tray filling up.
Another thing I love is I can use bottled water or tap water. That is really convenient for me because even though I used bottled water for just about everything sometimes I run out. So it is nice to know I can use tap water.
Set up is a breeze and making ice is even easier. You plug it in, fill the reservoir with water, pick your ice cube size, and then press start! In 10 minutes you will have ice!
You know what is even more awesome than the BrylaneHome Ice Maker? The amazing cocktail the ice cubes go in! With Halloween just around the corner I thought it would be nice to share a great tasting Blood Orange Mojito with you! It is as easy to make as ice 🙂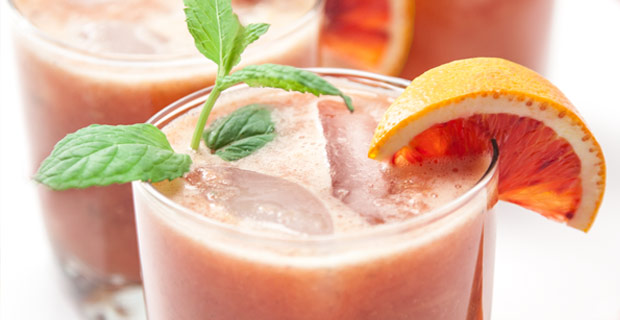 Blood Orange Mojito
1 lime, juiced
2 blood oranges, peeled and halved
3 fl. oz rum
2 tbsp. sugar
11 mint leaves
1 c sparkling water
1 c ice cubes from the BrylaneHome Ice Maker
Add all ingredients in order to a blender. Pulse until smooth. Pour into a tall glass, garnish with a blood orange slice, and enjoy!
Visit BrylaneHome