I was so incredibly excited to get my Apple Watch back in January. Truth be told, I'm a bit of an Apple whore, so it's kind of surprising I waited this long to get my first Apple Watch. Part of the reason I got it is because I'm a runner, and trying to find a place to put my phone while I jog is absurd–especially when it's hot outside. In the winter, it's a non-issue because I can stick my phone in a pocket that zips and call it good. But in the summer? Yeah, it doesn't work out so well. I end up carrying it or stuffing it into my sports bra where it gets all sweaty and nasty.
The Apple Watch gave me all of the necessary features of my phone, but in wearable technology, I have no trouble finding a space for. I can stream music via Bluetooth right from the watch. The problem is that the Apple Air Pods are not only super costly, but they also don't always sit snugly or securely within the ear while running. So when I got my hands on the Bose SoundWear Companion Speaker, it was a game-changer for me.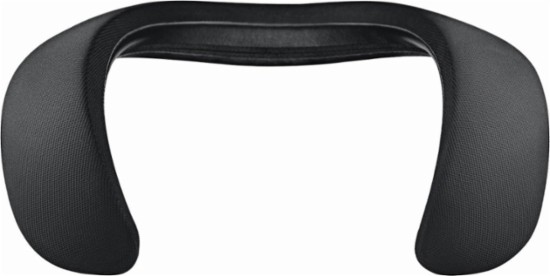 Bose SoundWear
This device is something truly brag-worthy. It sits snugly on the back of your neck and rests on your shoulders in a way that is not bulky or prohibitive of movement in any way. It truly moves with you. But guys, that isn't even the best part! The best part is the SOUND! It truly gives you a surround-sound experience without having anything directly in your ear canal! The two 11-inch waveguides in the neckband gives the sound amazing depth, but is able to cancel out the bass for anybody nearby.
One of my favorite features of the Bose SoundWear Companion Speakers is its easy wearability. I tend to have a very difficult time with earbuds because the openings of my ears are extremely tiny. I have tried just about every earbud known to (wo)man looking for one that gave me a good, secure fit for everyday activities. Finding earbuds for running has been an exercise in futility altogether. Until I got my hands on this bad boy. The Bose SoundWear takes all the hassle out of trying to get earbuds to stay in place while I move around.
Benefits
Another amazing plus for the SoundWear Companion is that it doesn't completely block out other noise. With three kids at home, two of whom tend to try their hands at murdering each other at any given moment, I need to be able to have my "ears free" for any refereeing I may need to do. With regular headphones or earbuds, I can move around the kitchen and cook and work out on the treadmill or do chores or whatever it is I like to do while I work. However, whatever I'm listening to makes it almost impossible to hear anything else going on around me. So when my daughter is screaming from the bathroom that she needs help wiping her butt, I can hear her yelling for me with the Bose SoundWear. Then again, maybe that isn't exactly a plus. But now I digress.
Features
Let's talk features. The Bose SoundWear Companion Speaker gives up to 12 hours of listening time on a single charge. What's more is it's sweat-resistant AND water-resistant. So when I'm really pounding the pavement in the 110 degree heat (also known as the "God doesn't love us anymore" heat), I don't need to worry about the buckets of sweat damaging the speaker. It allows me to stay connected to both my music and my calls while I am using it. Even better is that when I answer the phone on it while I'm outside, wind noise doesn't come through.
One of the biggest concerns I had at first was wondering if everybody around me would be able to hear my phone calls or my music while wearing it. The short answer to that concern is it's not a concern at all. It's not like answering a call on the Apple Watch where anybody in the room can hear both sides of the conversation. And it isn't like plugging into a speaker and broadcasting your music for everybody. It creates a sort of personal cocoon for the user. People in the immediate area will certainly be able to hear what the listener is hearing. But people outside of a few feet away won't be troubled by it whatsoever.
For me, the Bose SoundWear Companion Speaker is able to completely change the way I am able to connect to my music and my calls while I'm exercising or momming real hard. It allows me to hear what's going on around me, which is a huge benefit. Not only does it allow me to be more alert for my kids, but when I'm out running by myself, I can hear approaching people or traffic or anything else that might be sneaking up on me to possibly hit me in the head and make off with my awesome speaker. It not only gives a truly hands-free experience, but it also provides a truly ears-free experience as well.