Blue Orange Games – Niya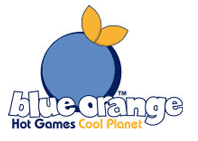 Blue Orange Games was founded in 2000 in San Francisco, California. Blue Orange Games is driven to spread the timeless pleasure of connecting face to face with family and friends around a great game. Blue Orange Games has earned a reputation for award-winning products with remarkable quality and high play value. Our family has been a huge Blue Orange Games fan for several years.
We recently had the opportunity to work with Blue Orange Games and review one of their new games. We were sent the game NIYA to review free of charge. Alexandria and Kevin wanted to be the first ones to try the game so the minute it came in they were at the dining room table reading the directions. The kids are seven, the recommended age is children 8 years old to Adult, so I was afraid that they wouldn't understand who to play, get frustrated and give up. However, that was not the case. Alexandria and Kevin Loved playing the game. It was easy for them to understand how to play. I also had them give me instructions on how to play in their own words
The Blue Orange Game, NIYA, is based on Japan's Imperial Garden, courtly manners and natural beauty veil a dark political conspiracy among two influential clans. On each turn, players replace a garden tile with one of their clan tokens. The next player can only exchange a token for a garden tile that has an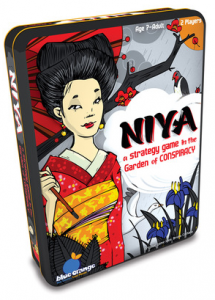 element in common with the previously chosen tile. The first to position their clan in a row, square, or blockade will win control of the garden and power at court!

NIYA is a game for two players and is recommended for children ages 8 to adult.

What is included in the box?
16 Clan Tokens
16 Garden Tiles
Illustrated Rules
The game comes in a protective metal case that allows for safe keeping and easy to take along with you on trips or visits to the park. NIYA is definitely a family favorite game with the kids!
If you would like more information about Blue Orange Games or Niya, please visit the Blue Orange Games Website. If you would like to purchase the Niya game please click here to preorder. Be sure to use the Blue Orange Games Store Locator to find a store selling Blue Orange Games near you. Be sure to stay up to date on all of the latest news and products from Blue Orange Games by following their social media pages on Facebook, Instagram and Twitter. While you are there, be sure to follow Mom Blog Society on Facebook.
Disclaimer: Mom Blog Society received product free of charge to write our review. All opinions stated in our review are our own truthfully opinion and were not influenced by the sponsor or from getting the review product free of charge. We were in no way compensated for our review or opinion.