I love Black Friday! Some of my fondest memories are heading out to the stores at 3:00 am armed with my best friends and a wallet.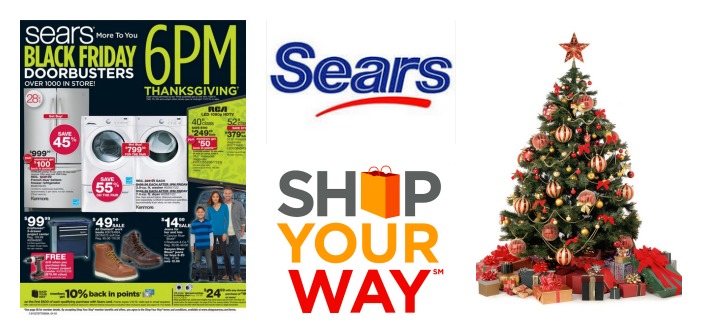 We'd always pick out one specific store to start with, and make sure we were standing as close to the front of the line as possible before the doors ever opened. Certain pictures remain in my mind; for example, standing outside the glass doors as we waited, looking in at the salespeople who were looking back at the hundreds of us with an expression that could easily be described as horror on their faces. I can also remember that feeling of excitement (and urgency) as we waited for those doors to open so we could all rush inside and get our shop on! I can also remember the feelings of exhaustion, frustration at being in the middle of hundreds of determined people, and even the disappointment when an item we wanted was sold out. The entire experience was like being on an emotional rollercoaster! Huffington Post actually wrote an entertaining post about this exact thing, entitled 15 Emotional Stages of a Black Friday Shopping Trip!
Now that I am a bit older, I rarely head out at 3am before I have even had a chance to drink my morning coffee. That's why I love shopping at Sears. Black Friday shopping at Sears is a completely different experience. They are your one stop shop for every gift on your holiday shopping list this year! I can get tools and clothes for my husband, jewelry for my mother and sister-n-law, toys for my kids and nieces, and even grab a few things I have been wanting for myself!
Sears will open their doors beginning at 6pm on Thanksgiving Day with more than 1,000 doorbuster deals on the most popular gifts of the season. These deals will be available through 1pm local time on Black Friday, too, giving you plenty of time to get what you need without having to fight the middle-of-the-night crowds!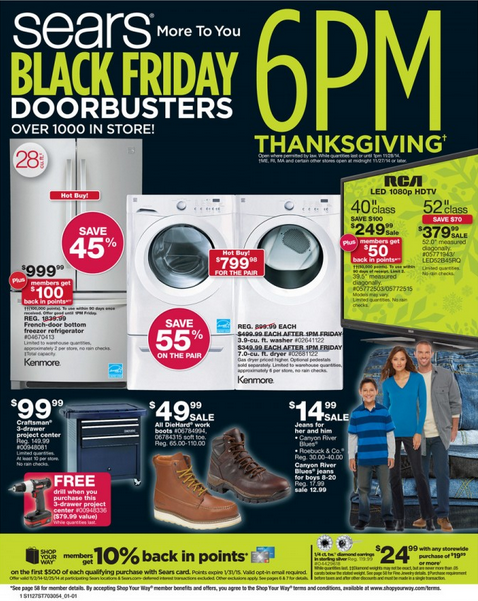 Sears Black Friday Specials
Here's a sneak peek at just some of the deals you will be able to find when Black Friday shopping at Sears.
– get 55% off Kenmore 3.9 cu. ft. Front-Load Washer (white) and Kenmore 7.0 cu. ft. Electric Dryer w/ Wrinkle Guard (white). This set is sale priced at $799.98, the regular price is $899.99 each!
– save $100 on the RCA 40" Class 1080p HDTV; sale price is $249.99, regularly priced at $349.99! Plus Shop Your Way members get $50 back in points!
– jeans for her and him – sale priced at $14.99 for both Canyon River Blues® and Roebuck & Co.®, regular price is $30.00-$40.00!
– all DieHard® work boots are on sale for $49.99! Regular price is $65.00-$110.00!
– save $50, plus get a Free Craftsman® drill when you purchase the Craftsman® Home Series 3-Drawer Project Center! Sale price is $99.99, regular price is $149.99!
– save $800 on the NordicTrack® C900i Treadmill; sale price is $699.99; regular price is $1,499.99! Big savings!
– buy four Sears RoadHandler tires and get up to $150 in value, including an $80 mail-in rebate via an American Express award card when you use a qualifying Sears card plus a $70 Sears Award card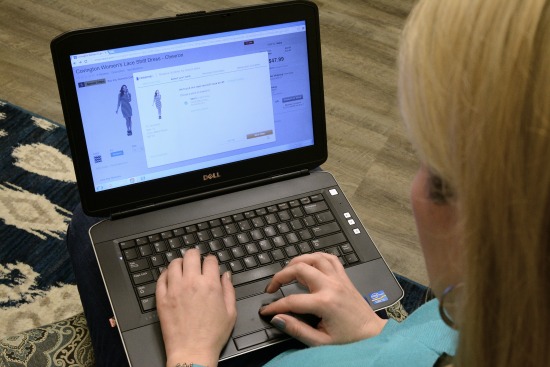 Shop Your Way Rewards Members
And if you are a Shop Your Way Rewards member, Sears has even more exceptional offerings for you! In addition to free store pick up, Member Assist and Reserve It, Shop Your Way members will receive an additional 10% back in points on the first $500 of each qualifying purchase with a Sears credit card all season long! members can also get an early look at Thanksgiving and Black Friday deals at searslocalad.com. Accessible via computer, tablet or mobile device, LocalAd shows deals from the Sears circulars and reveals hundreds more in-store discounts on overstock inventory unique to your specific local store.
I have been needing a new washer and dryer, and with the Kenmore set on sale for $799.98, down from $899.99 each, there may just be a new washer and dryer in my future!
What's on your Black Friday shopping list?