I just love my BESTEK Pressure Cooker. Until recently I have never used a pressure cooker. I remember my Mom having one when we were kids, but it was one that sat on top of the stove and all I can remember is the steam coming off the top.
Disclosure: I received a BESTEK 6.3 Quart Pressure Cooker in exchange for my honest review. All opinions are my own.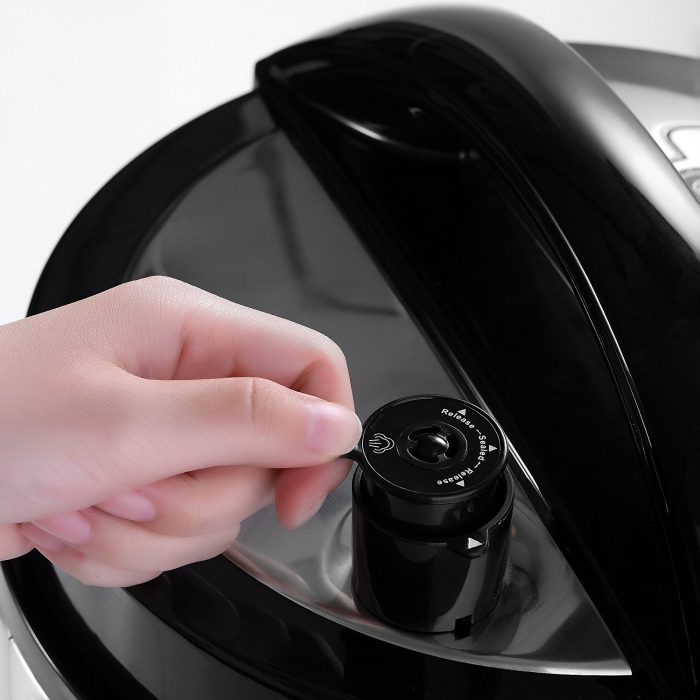 Advantages of BESTEK's Pressure Cooker
With BESTEK's 6.3 Quart Pressure Cooker, I know can use it for multiple dinner ideas. I will say that one of the things I like the most is how easy it is to clean once I am done using it. The lid is nicely designed to ensure ease when cleaning as well as its detachable parts.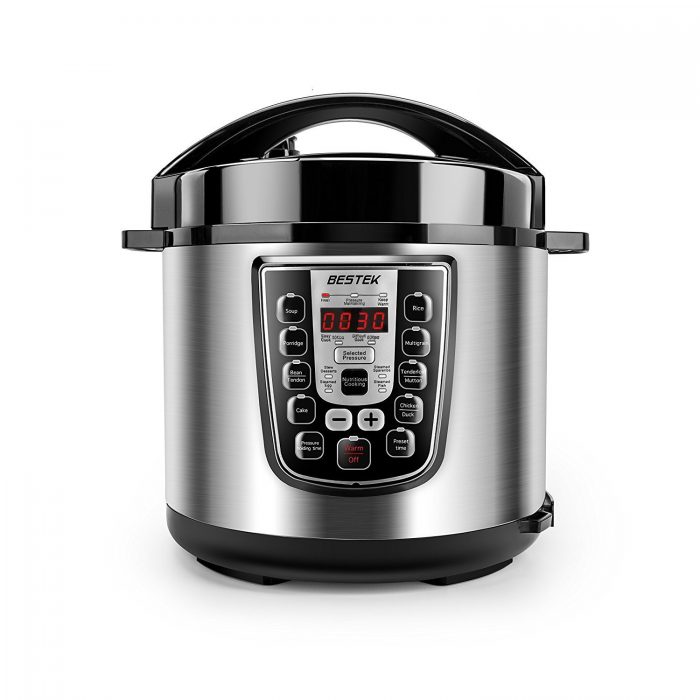 There are 11 smart built-in programs and with the touch of a button I can set it up perfectly for the meal I am making. You can make steamed fish, stew, soup, tenderloin, a roast, chicken or even duck if that is something you would like to try. It even allows you to make rice! It could easily replace my crock pot and rice cooker which would free up some space on my cupboard shelves. I have not tried making a cake or dessert yet but that is next on my list of things to do.
Another advantage of this pressure cooker is that it is designed to eliminate errors so that you do not have to worry about causing injury, your food spoiling and prevents the user from injury without compromising how it will work. Where as like I mentioned above I remember my Mom's rattling and steam flying out of the little areas on the top which made you have to be super careful not to burn yourself with the steam.
Eat Healthier with BESTEK's Pressure Cooker
BESTEK pressure cooker offers you a way to cook faster and eat healthier!
The way it is designed it is meant to trap all of the steam inside and create pressure to increase high temperature. With the tight seal, the cooker locks in heat to make food cooked as well as locks in moisture, flavor, vitamins, and minerals of foods for outstandingly tasteful and healthy meals. I have always loved my slow cooker, but I will admit the taste after using BESTEK's Pressure Cooker is far more flavorful than I would have imagined.
What is included with the Pressure Cooker?
Pressure cooker × 1

Lid × 1

Sealring × 1

Inner Pot × 1

AC Power Cord × 1

Measuring Cup × 1

Ladle × 1

Soup Ladle × 1

Condensation Collector × 1

Steamer Tray × 1

User Manual × 1

Recipes × 1 (I love that it comes with a little recipe book. It gave me ideas I didn't even think about).
The pressure cooker is almost 14 pounds and has an 18-month warranty included. Right now you can purchase one for yourself via Amazon (this is not an affiliate link). At the time of writing this, it is currently on sale for 45% off the original price. This is a deal you do not want to miss. This also ships for free if you have Amazon Prime.
Visit BESTEK's Amazon Storefront | Facebook | Twitter |
Disclosure: I received a BESTEK 6.3 Quart Pressure Cooker in exchange for my honest review. All opinions are my own.
BESTEK has offered us to giveaway 1 BESTEK 6.3 Qt Pressure Cooker to one of our readers! Isn't that great? Details coming!