From the Producers of American Ninja Warrior comes the ultimate kid's competition show!
I don't know about you – but since the day American Ninja Warrior hit TV programming I have been hooked! I have never been a workout junkie or anything – but I did always imagine how fun – albeit hard work – it would be to compete on the show.
My son, who is now 18, would always comment that he would be a great candidate for the show! And while it's a little late for him – we got some exciting news a couple of weeks ago that I think you will love!
Best Kids Obstacle Course is NOW CASTING Kids for Their New Show!
Is your kid competitive to the core?
Does your kid love climbing & isn't afraid of a challenge?
The new Best Kids Obstacle Course show is searching the nation for kids to compete on the most physically challenging obstacle course ever and win a cash prize!
If jumping, racing, and climbing are some of your child's favorite things and they are between the ages 9-14 years old, then you need to get in touch with them!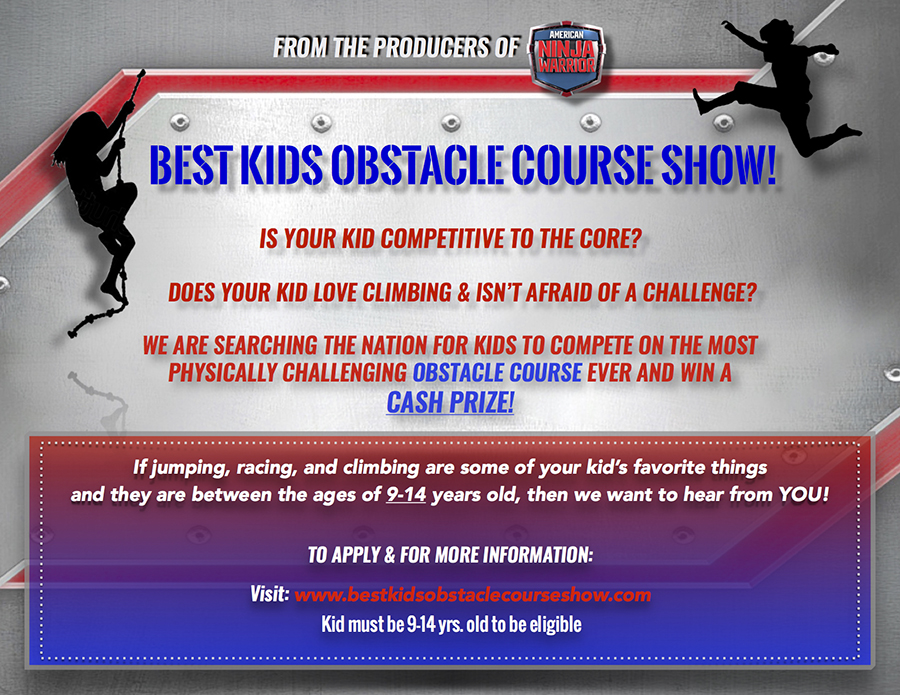 TO APPLY & FOR MORE INFORMATION:
Visit: www.bestkidsobstaclecourseshow.com
Application Deadline is Friday, May 11th by 11:59pm (PST)