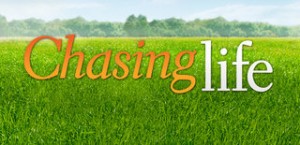 AIRING TUESDAY, JULY 22ND AT 9:00PM ET/PT ON ABC FAMILY
Burbank, CA (July 2, 2014) – April sees a fertility doctor in "Unplanned Parenthood," an all-new episode of "Chasing Life," airing Tuesday, July 22nd at 9:00 p.m. ET/PT on ABC Family.
April sees a fertility doctor to learn about her options prior to starting chemotherapy and looks to her cancer support group for advice on how to tell Dominic about her leukemia. She gets Leo's blessing to write a piece that paints Bruce Hendrie in an unflattering light and wins some hard-earned recognition at work.
Meanwhile, George makes an effort to help Sara cope with her emotions and the pressure of caring for April, and Dominic gets a surprising offer which could change everything.
"Chasing Life" is adapted from the successful Televisa Spanish-language Mexican television series and is a co-production of BV Family Productions, Lionsgate, and Televisa in association with ABC Family. The series is executive produced by Sean Smith ("Greek"), Susanna Fogel ("Life Partners"), Joni Lefkowitz ("Life Partners") and Aaron Kaplan ("Terra Nova"). "Chasing Life" stars Italia Ricci ("Unnatural History"), Mary Page Keller ("NYPD Blue"), Aisha Dee ("I Hate My Teenage Daughter"), Richard Brancatisano ("The Elephant Princess") and Haley Ramm ("Red State"), with Steven Weber ("Two Broke Girls," "Wings") and Scott Michael Foster ("Greek") as recurring guest stars.
Part of the Disney/ABC Television Group, ABC Family is distributed in over 97 million homes. ABC Family features programming reflecting today's families, entertaining and connecting with adults through relatable programming about today's relationships – told with a mix of diversity, passion, humor and heart. ABC Family's programming is a combination of network-defining original series and original movies, quality acquired series and blockbuster theatricals. For 2014, ABC Family has launched the "WATCH ABC Family" authenticated service which allows viewers with participating TV subscription services access to 24/7 live viewing of the network, as well as continued on demand access to such popular series at home and on the go via a wide array of devices. ABC Family is also the destination for annual Holiday events with "13 Nights of Halloween" and "25 Days of Christmas." ABC Family. A New Kind of Family.
Official ABC Family "Chasing Life" website:
Facebook: Facebook.com/ChasingLifeonABCFamily
Twitter: Twitter.com/ChasingLifeABCF @chasinglifeabcf #ChasingLife
Tumblr: abcfamily.tumblr.com
Pintrest: Pinterest.com/ABCFamilyTV
Instagram: Instagram.com/ABCFamily