More Americans than ever before (over 80 million) have traveled abroad in recent years. Are you interested in joining this group and seeing what the rest of the world has to offer?
Even if you're a mom with young children, you can absolutely travel abroad safely and have a great time.
Some people assume that traveling abroad with children is too difficult. If you do a bit of prep work ahead of time, though, it can be an enjoyable and relatively easy experience.
Read on for some essential tips to keep in mind when you're traveling with kids.
Get Immunizations Early
One of the biggest hurdles for folks traveling abroad is making sure they have all the required immunizations.
Make sure that you and your children are immunized early. That way, you won't be rushing around the week before your trip trying to get everything done.
Plan to visit a travel clinic three months prior to your trip. This ensures you have plenty of time to get all your vaccinations.
It's also a good idea to get both the required vaccinations and the recommended ones. Every parent can use a little extra peace of mind while they're traveling.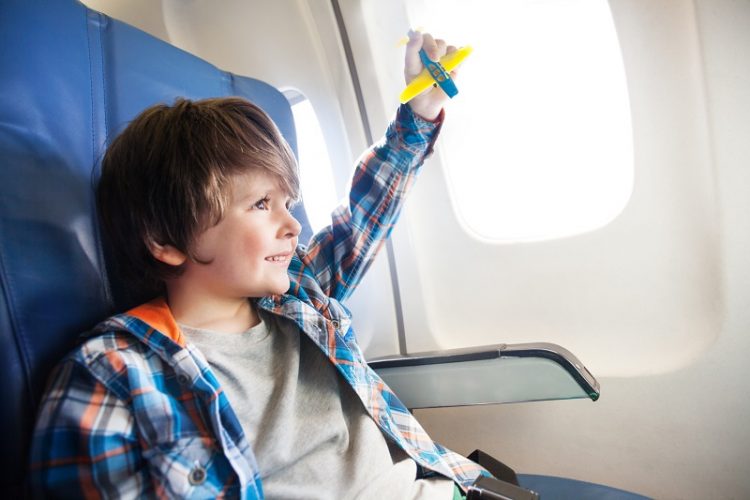 Prepare Their Passports Early
Speaking of getting things early, make sure your children's passports are in order as early as you can, too.
If they don't already have passports, get them a couple of months before your trip. If they do have passports, make sure that they're valid for at least six months beyond your travel date.
Help Them Learn the Language
No, your children don't need to be foreign language experts prior to your trip. But, it's fun to teach them to say a few words — hello, goodbye, thank you, etc. — before you leave.
This helps them get excited about the trip, and it's fun for them to be able to talk to the locals a bit when you reach your destination.
Bring Something from Home
When you're packing your children's bags, be sure to include something from home.
This item can be comforting to your child if they get scared or homesick during your trip. It could be a stuffed animal, a blanket, or some other kind of comfort item. Just make sure it's easy to store in a carry-on bag.
Search for Savings Online
International travel can often be quite expensive, especially when you're bringing your kids along for the ride (or flight). Luckily, though, there are also a lot of websites that will help you save money.
Start searching early on websites like Voucher Empire to find savings on activities and accommodations. Be sure to use an online comparison tool to find affordable flights, too.
With a little planning, you can save a lot of money on your trip while still making sure everyone is comfortable and has a great time.
Make Food and Sleep Top Priorities
When you're traveling alone, you can afford to be a little lackadaisical with your sleep and meal schedule.
This is not the case when you're traveling with kids, though. Unless you want to wrangle hangry little monsters during your trip, you need to make food and sleep top priorities.
Try to stick to your at-home eating and napping schedule as much as you can. This isn't always easy, especially since some countries operate on a totally different schedule than we do in the states.
Do your best, though. Keep snacks on hand to tide your kids over in between meals and try to get back tot he hotel for naps at the same time each day.
It'll take a little extra work, but it'll be worth it not to have to deal with tired, hungry kids.
Invest in a Travel Stroller
A travel stroller will be your best friend during an international trip.
Opt for a lightweight option that is easy to maneuver and has plenty of storage — it'll save you from having to carry a purse or backpack, too!
Plan on checking your stroller when you get to the airport and carry your child or have them hold your hand as you navigate through the terminal. This is a lot easier than trying to get a stroller onto the plane.
Prepare for the Plane
Traveling on a plane with young children can be exciting, but it can also be stressful, especially if you have very young children.
Bring plenty of snacks and toys to keep your kids entertained. An iPad or tablet and headphones can be a major lifesaver on long flights.
Consider buying some new toys and keeping them a secret, too. That way, if your kids get bored or restless, you can pull them out and surprise them.
Try to book a non-stop flight if possible. It might not seem like a great option, but it's easier to just keep everyone on the plane once you've boarded — no need to run through the terminal "Home Alone" style.
Prepare for Luggage Delays
Whether you like it or not, luggage delays happen. Prepare for them and make sure you store all of your essentials in your carry-on bag.
This includes changes of clothes, toothbrushes, snacks, and sleeping aids. That way, even if your bag does get lost, you're not totally out of luck.
Have a Jet Lag Plan in Place
Finally, have a plan in place to deal with jet lag.
You might be tempted to have everyone take a nap as soon as you get off the plane. If you arrive during the daytime, though, it's better to just stay awake until at least 7 or 8 p.m. local time.
It might not be fun at the moment, but it will make the adjustment process easier.
Need More Tips on Traveling with Kids?
Think it's impossible to travel abroad with kids? Think again!
Keep these tips in mind and you'll have a much easier time traveling with kids anywhere in the world.
Do you want to learn more about traveling with kids? If so, check out the Travel and Home Living Section of our site.
You'll find all kinds of helpful articles here that will teach you everything you need to know about keeping kids safe and happy while traveling.