Starting an eCommerce business is a process that happens on many fronts. As a small business owner your attention is pulled in multiple different directions and you constantly have to wear many different 'hats'.
Staying on top of your marketing efforts is one of those activities. Marketing is important to pay attention to, because it is one of the most important growth levers you can use when starting an eCommerce business.
This guide breaks down six of the marketing goals you should stay on top of and make sure your ecommerce business is using. Here they are:
Get Social

Improve your Site Speed

Optimize for Voice Search

Collect Email Addresses

Build a Sales Funnel

Use Landing Pages
Each of these is explained in more detail below.
Get Social
According to the HubSpot State of Inbound report, 81% of consumers say that social media influences what brands they buy. Naturally, this makes social media a very powerful marketing tool.
If you are in the eCommerce business, you are selling products. Products are tangible items. As such, you should focus on social media networks that are highly visual.
Facebook, Instagram, Pinterest, and Twitter all offer great opportunities for eCommerce businesses to connect with customers.
Here's a good way to split your social efforts:
Facebook could be your 'mothership'. Your Facebook page incorporates elements of all your other social profiles.

Instagram is highly visual, and offers great opportunities to share pictures of your products.

Pinterest is also highly visual, but slightly more dynamic. If you have a very visually appealing product, Pinterest is a great opportunity to share images and link to your website to increase your website traffic.

Twitter is a great place for conversations, and to portray your brand personality. This might not be for all eCommerce stores.
Remember to apply the Pareto Principle and focus your efforts on the tools or channel that is yielding the majority (80%+) of your results.
It's better to be significant on one social media platform than average on a few.
Improve Your Site Speed
According to research by Akamai, 40% of consumers will abandon a website that takes longer than 3 seconds to load.
Slow website speed has a direct correlation to lost revenue for an eCommerce business.
The good news is that there are many things you can do to improve the speed of your website.
Here are some ideas:
Check for and remove any unnecessary images or JavaScript files.

Use a CDN (Content Delivery Network) to serve your website files from a server closest to your visitor's location, increasing load time and reducing bandwidth costs.

Image optimization tools like TinyPNG or ImageOptim can reduce the size of your images without compromising image quality. It's small changes like this that can make a big difference in the performance of your site.
Optimize for Voice Search
In 2016, searches conducted from mobile devices surpassed desktop searches for the first time ever. This opens up a vast range of opportunities.
Additionally to this, according to a study by Google, 20% of mobile searches are done using voice search.
As a result, it is crucial that your website is optimized for voice search.
Here's how to do it:
Make sure your site's pages load fast. If your site isn't fast, voice search will not recognize and understand your user's query. Also, a slow website will frustrate users and make them less likely to engage with your site.

Use voice recognition software like Google's Cloud Speech API. This will allow you to programmatically transcribe what your visitor says and display it on-screen. This will help you improve the accuracy of what people are searching for on your site.

If you have a lot of long or complex product titles, you may want to consider using the title length options in Google's app for voice search to help users ask for the product they want when they want it.
Collect Email Addresses
Building an email list is a great way to keep in touch with your customers. The list of benefits that you get as an eCommerce business owner when you are collecting potential customers email addresses is long:
Email is the most intimate form of communication between you and your customer.

Email allows you to send messages to your customers at any time.

Email gives you the opportunity to gather feedback on your products.

Email allows you to build a relationship with your customers, showcasing yourself as a brand they can trust.
The most important benefit is: Once you have someone's email address, you have near countless opportunities to convert them into a customer, at a very low cost.
Here are some ideas for how to build an email list:
Promotions
Offer promotions and discounts through email. Offer exclusive discounts or access to coupons in exchange for their email address.
Newsletter Sign Ups and Opt-Ins
Collect emails when people sign up for your newsletter or make a purchase. Offer them something of value, like a free guide or other downloadable content in exchange for their email address.
Facebook Ads
Use Facebook ads to drive traffic to a landing page where they can opt-in to your email list. Or, use Facebook ads to promote blog posts that ask for email addresses. You can also use the lookalike audience feature on Facebook, which will show ads only to people who are similar to your subscribers.
Google Ads
Use Google Adwords remarketing to drive more sales by showing ads only to visitors who have already been on your site and collected an email address from you. This is one of the best ways to increase conversion rates and sales.
Build a Sales Funnel
A sales funnel is a process that leads a prospect from being unqualified (not knowing about your brand) to becoming a customer.
As an eCommerce business owner, you want to build a sales funnel that gets a potential customer through the following stages:
Awareness

Consideration

Purchase
The goal of any sales funnel is to convert unqualified prospects into paying customers. A highly optimized sales funnel will help you achieve this.
Here are some ideas for eCommerce businesses to optimize their sales funnels:
Understand where your customer is in their journey (as above)

Use the appropriate messaging

Use limited offers

Use Follow up sequences

Give an easy 'out' where they don't leave your ecosystem, even if they don't want to buy your product right now

Use landing pages to convert high-intent users
Speaking of landing pages…
Use Landing Pages
Landing pages are pages on your website that have been designed with a clear call-to-action to drive very specific actions. These can include getting visitors to sign up for something, download a piece of content, or make a purchase.
Landing pages should always serve one specific goal, and should always be tied back to your core product or service offering.
A landing page should:
Be easy to notice and understand

Have a clear, contrasting CTA that stands out on the page

Be designed around one specific goal (whether it is to collect emails or to get people to download content)
Here's an example of a great landing page: Lyft's "Become a Driver" Page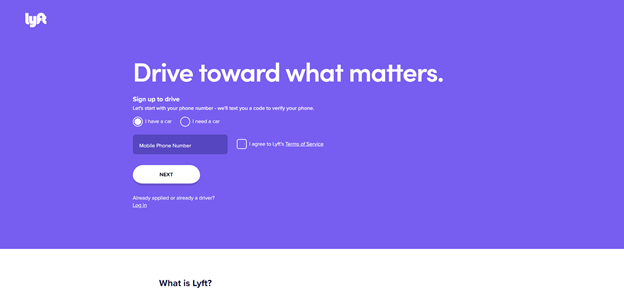 If you're effectively using the above 6 recommendations for your eCommerce store, you should be well on your way to converting more prospects into paying customers. Good luck!