Simply Fun has marked down a large variety of family games to 50% off this summer, so that you and your family can have a great time for a great price. You can get challenging games like Sudoku Challenge, Ice Hop, and Bringing Down the House to get up to 8 family members around the table. Any one of these family games will bring hours or even a couple minutes of family time back in to the day, before or after everyone is doing what they wanted for the day. Even the busiest person in the family will be able to find some time to spend around the table with a smile. Sometimes you just don't know how special spending just a few minutes of time laughing and having fun with the family can be. Releasing stress by letting it go and thinking about how fun it is right now. Some things that effect us everyday could be wiped-out of our lives by simply doing this. We hold on to plenty of frustrating thoughts as we continue throughout our day letting them drain us. Those thoughts will instantly fade when everyone sits down to spend quality family time together. Just remember not to let the kids have all the fun, this is your time to be happy as well.

_______________________________________________________________________________________________________
Get a few of these family fun games so that maybe after Dinner everyone can sit down before going their own separate ways. Some of these games may not take up much time but they will be sure to give plenty of good memories before the night is over. Simply Fun has a great variety for these family games from all ages for you to pick from. The discount for these great games is from June 9th – July 11th, 2015. So these great supplies will not be at the 50% discount forever. Not everything this cheap will give your children good quality time spent with the family, and a learning experience followed behind that. Your children are always looking for attention, so why not give it to them in a way that benefits both you and your child at the same time. Just like the kids growing up faster summer will be over before you know it. If you overthink it this great deal will be over before you even got a chance to grab a few good deals. Make time for family this summer and bring them to the table for well spent time. May the best player win! But everybody remember to have fun!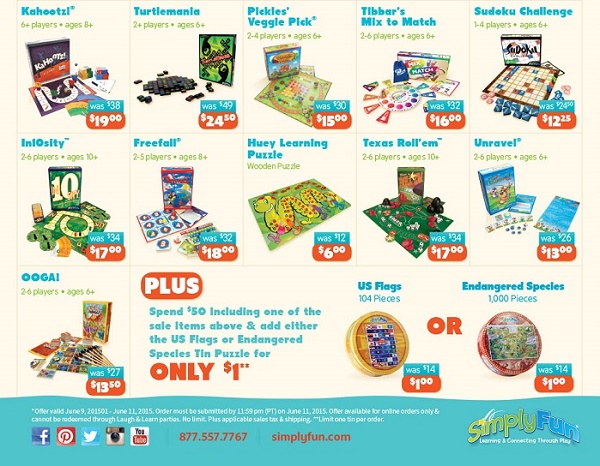 Connect with Embassy SimplyFun: Twitter | Facebook | Shop
Disclaimer: This product was received from the company for review purposes only. All thoughts and words in this post are my own and I was not paid to endorse it. I am only voicing my opinion about this product.