Of all the rooms in the house, perhaps the most important one is the lounge. It's the lounge where we spend most of our downtime at home, and so it needs to be a place of sanctuary.
A good lounge should reflect your interests without being overcrowded. It needs to be somewhere you can relax, and too much clutter can make that hard to do so, but too neutral and your lounge will be impersonal and cold.
Here are five tips for creating a lounge area that is stylish and somewhere you'll feel at home.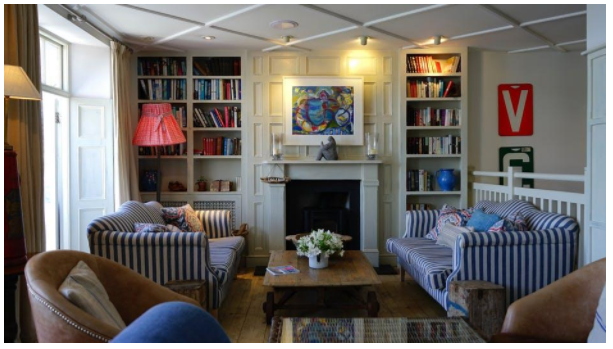 Diverse styles!
If you buy all your furniture, upholstery and decorations from the same place at the same time, your lounge may look technically cool, but that box fresh look will make it feel cold.
This is the place you're going to live and love, so mix it up a bit. It's good if you have majority new furnishings to combine them with vintage pieces.
For example, if you know you're mostly going to be chilling out on your corner sofa, why not think about a mid-century armchair for decoration. The combination of sleek modernity and older wooden features will make your lounge stylish and warm, a place you'll really want to be.
Focus on How your Live in Your Lounge
Focus on what you do in your lounge and then style accordingly. There's no point designing your lounge to look really good but without a place for a T.V when your favorite thing to do on a lazy evening is flick through your favorite channels.
All your favorite home entertainment needs to work in your lounge. If you like to read, a coffee table is an absolute must to rest your current paperback on.
For music fans, a sound system can be really chic with the addition of a vinyl player. Make sure the things you love work for you in your lounge, to make it both comfortable and stylish.
Personalized Furnishings
Making your own cushions is a really great way to add a pop of a color to your lounge, and also it makes a space that really feels like yours because of that personal touch.
This can be hard work and if you aren't very crafty, get a service to do it for you. Custom furniture Orange County help build chairs and other furnishings to your requirement, so you get a personal touch with the finish of a professional!
Throws
Throws are one of the best ways to add both comfort and style to a lounge area. On colder nights they make your lounge extra cozy, and on lazy Sundays, they help you feel super comfortable while you curl up in them.
One good option for a throw is fake shearling or fake fur. These add a touch of glamour to an otherwise low-key lounge and make a lounge feel warm and classy.
Another option for a throw is any sort of hand weaved blanket. These are chic and homely and have the benefit of adding a touch of color while making your home comfortable. Plus, there seems to be something really special about any handmade item in the home.
Feature pieces
Lots of pieces in your lounge have to work on three levels; they have to provide comfort, be functional and useful, and have style. But what ups a lounge in the style stakes, and really makes it a home, are the little things that are there because they please you. Examples of this are sculptures, art pieces, and family photographs.
Framed photographs are a tried and tested way to personalize a lounge, and work really well. A combination of newer and much older photographs gives a real sense of sophistication. Vintage photographs remind you of your loved ones, and add a true touch of style.
Vases also are a lovely feature in a lounge, because they are beautiful in and of themselves and when filled with flowers, really lend a lounge some sophistication.
Whatever feature pieces you like, be them painting reproductions, tribal masks, vases, funky baskets, just make sure you love living with them and don't go to far, and your home will be both stylish and comfortable!