Summer is here and so is the scorching heat. Even though summer has a host of benefits like ample vitamin D and fun beach days, it also has some downsides. Aside from the odor and discomfort of sweat, the seemingly unquenchable thirst is a hallmark of long summer days. No matter how much water you drink, the thirst just doesn't feel like going away.
One way to beat the heat is to enjoy some homemade fruity flavored, brightly colored, extra chilled refreshing drinks. This list contains some easy-to-make drinks that you can make and enjoy at home. Pick your favorite and make your summer a bit more fun.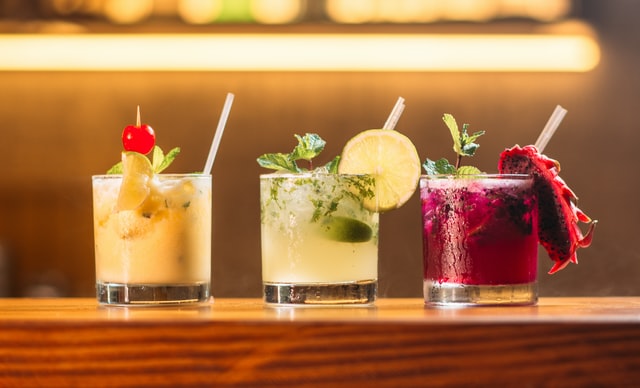 Source:https://unsplash.com/photos/xBFTjrMIC0c
Mason Jar Citrus Coolers
Ingredients: Orange, Lemon, Lime
This refreshing citrus drink is a great candidate to be the best drink you enjoy this summer. It's simple and easy to make and is extremely refreshing. It totally cools down your body temperature and helps you stay hydrated.
Mix the orange juice, lemon juice, and lime juice (yes, lemon and lime are different) in a big pitcher, and add some sugar. Serve the drink in mason jars which you can buy at www.roetell.com to get the feel of drinking at a beach. It is best to add the sugar separately in each mason jar instead of adding it to the pitcher. Fill each mason jar with ice andshake to dissolve the sugar and to chill the drink.
Glow Water
Ingredients: Seltzer Water, Any Flavored Fruits/Vegetables
This zero-calorie seltzer water drink completely depends on your taste. The main ingredient is the seltzer water and you can add any other ingredient you want for flavor. You can add various ingredients for a cocktail flavor and make a fun thirst-quenching summer drink.
You can make various flavored glow water drinks. For example, you can go with Cucumber Mint; 1 cucumber slice, some spring mint, and thinly sliced lemon. Another one is Peach Ginger; 1 peach slice, skin-removed ginger slice, and 1 cinnamon stick.
These are just a couple of examples of the kind of ingredients you can mix and how to mix them. You can try your own combinations and invent your own flavorful drinks.
Watermelon Lemonade
Ingredients: Watermelon, Lemon Juice
Another simple but effective summer drink is the watermelon lemonade. It's exactly what the name suggests, watermelon mixed with lemon juice. You can make watermelon juice or put watermelon slices in the lemonade. We suggest making watermelon juice and mixing it with lemon juice. You can also add some spring mint and some black salt for extra flavors.
The recipe is fairly straightforward as well. One part of watermelon juice and one part of lemon juice mixed into one glass jar. As we suggested above, use frozen watermelon cubes to chill your drink.
Coconut Water
Ingredients: Coconut water, Ice
Coconut is more than just a hard, ball-shaped fruit. It is one of those rare things that you can eat and drink. A chilled glass of coconut water can hydrate you and instantly cheer you up. The mildly sweet and fresh taste of the coconut keeps the summer heat at bay and instantly freshens your mind and body. Plus there are numerous health benefits of coconut water.
The making is fairly simple, all you need to do is get the water into a glass, add some ice and you have a chilled coconut water drink. The tricky part is getting the coconut water. Our suggestions; buy coconut water from the market because extracting fresh coconut water from a coconut is a pretty difficult task.
Lassi
Ingredients: Milk, Yogurt, Ice
Lassi is a summer drink that originates from the Indo-Pak subcontinent. It is a very hydrating, soothing, and refreshing drink. It is a smooth yogurt-based refreshment and is extremely refreshing and soothing. But we warn you, it's so soothing you might get sleepy after having a glass or two.
It's fairly simple and easy to make. Just put the milk, yogurt, and ice in a juicer, grind for 1-2 minutes and you have a jug full of refreshing and chilled lassi. The best thing about this drink is that you can make different variants by adding different ingredients. So, this summer try the different variants of lassi.
Conclusion
The bottom line, summer is here and it is going to be hotter than ever. You cannot always sit in front of an air conditioner to beat the heat. Sometimes you have to resort to other things to tackle the heat. Having a cold and refreshing drink is a great way to tackle the heat and to keep yourself hydrated in the summer.
In this article, we have listed 5 of the best summer drinks that you can easily make at home which will keep you hydrated as well. Do try these and give us some feedback about the drinks. Enjoy the summer.