If you are looking to add a new "furry" member to your family, perk up your ears – the Golden Doodle might just be the perfect fit for your family. As a cross between the Golden Retriever and the Poodle, the Golden Doodle is quickly becoming a popular choice among dog lovers.
Little wonder A-list celebrities such as Jennifer Aniston, Tiger Woods, and Usher have a Golden Doodle as part of their families.
The "doodles" (Golden Doodle and Labra Doodle) make up a new type of trend known as designer dogs. The Golden Doodle is to the dog world as designer clothes are to fashion.
Here are five reasons purchasing a Golden Doodle might just be a perfect move for your family.
1. They Are Charming
Everyone loves a cute dog and the Golden Doodle is not just cute – it's adorable. Just find a picture of a Golden Doodle puppy or the smile of any Golden Doodle and you'll see what we're talking about.
The Golden Doodle is a mix of the breathtaking good looks of the Golden Retriever and the charming colors of the Poodle.
The Golden Doodle looks like a mini-teddy bear. It measures between 14-17" and weighs somewhere in the range of 15-30 pounds.
2. They Are Hypoallergenic
Golden Doodles are hypoallergenic – that's a big word to say they are very unlikely to set off your allergies. While some dogs are cute and can be good companions, they are likely to trigger your allergies perhaps through dander, hair, or urine. With such dogs, you end up having a horrid experience.
Generally, Golden Doodles are good for people with allergies. They give off minimal dander, thereby ensuring they can serve as a perfect companion without any challenge.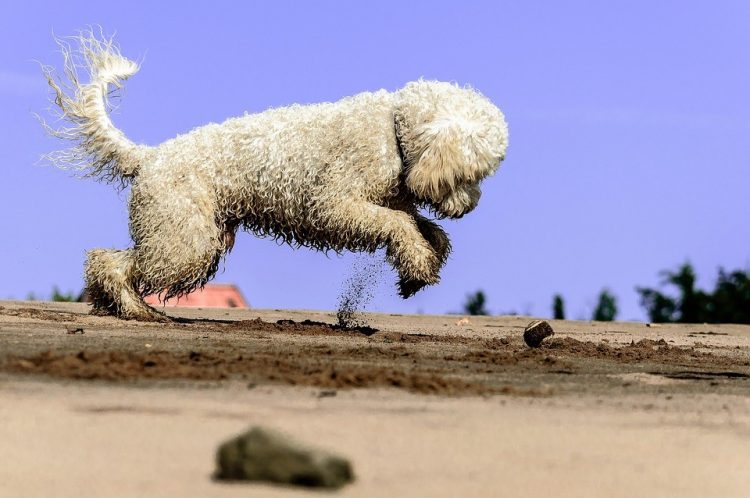 3. Family and Kid-Loving
If you are looking for a dog that is energetic, fun-loving, loves to run around, and can engage in activities such as swimming and playing fetch very well, then you may be better off not looking beyond the Golden Doodle.
This pooch loves kids and bonds with them. It is full of energy and robust – something often referred to as hybrid vigor in the world of dogs.
Judy Hahn, a dog-lover who runs a puppy farm notes: "This is not a dog for couch potatoes. They're active; they like water, they like boats, they like to go to the park. It's a go-anywhere, do-anything breed."
4. Fast Learners
The Golden Doodle is a really fast learner. It doesn't take much time for it to learn to catch a frisbee or jump through a hoop. And the reason is simple: the Golden Doodle is a cross between two of the most intelligent dogs in the world – the Golden Retriever and the Poodle, and this makes them highly trainable.
The Golden Doodle also makes for a perfect guide dog and therapy dog. The Doodle can serve as a good service dog for anyone in the family with challenges.
Let's Wag the Tail Once More
If you are looking to add a dog to your family – even if it is your first stab at getting a dog, the Golden Doodle is a perfect fit. It is beautiful, enthralling, a fast learner, and a good fit for your family and kids.
Purchasing a Golden Doodle is certainly a decision that you won't live to regret. The experiences you are bound to have with the Golden Doodle will make your expense feel like a worthwhile spend. So, go ahead and get a Golden Doodle now.