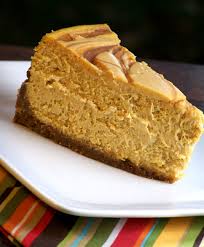 With Thanksgiving just around the corner, it's time for me to start my fabulous Thanksgiving dessert selection. Every year I try to come up with new dessert ideas to serve my family. They love that we have something new and delicious to try each year. And I enjoy making them almost as much as I enjoy eating them. So why not ditch the plain pumpkin pie! This year, turn Thanksgiving dessert in to a memorable feast!
This year why not serve up Pumpkin Cheesecake instead of the same old pumpkin pie? Some of the fabulous desserts I plan to whip and serve on Thanksgiving are mini pumpkin pie cookies, sweet potato pie, pumpkin pie with walnut topping, grandma's chocolate cake, Dutch apple pie, pumpkin streusel, puff pastry with pumpkin-coconut mousse, cranberry walnut relish, pumpkin-coconut bread, pumpkin pudding and even pumpkin fudge! Yes, that's a lot of dessert. My guest already knows to loosen those belts and dig in with dessert and coffee.
We've complied some of our favorite collections of pies, pumpkin recipes, and Thanksgiving desserts so you have the best of the best to choose from when it comes to the finishing touches of Thanksgiving's dinner.
This year, I used Foodie.com to compile my Thanksgiving dessert collection. They has so many fabulous recipes on there to select from. Be careful though, the site is pretty addictive!
You can find easy recipes for your favorite Thanksgiving desserts to or discover new ones on Foodie.com!
Connect with Foodie: Foodie | Facebook | Pinterest | Twitter |
Disclosure: This is a sponsored opportunity with Foodie.com. However all opinions are my own.